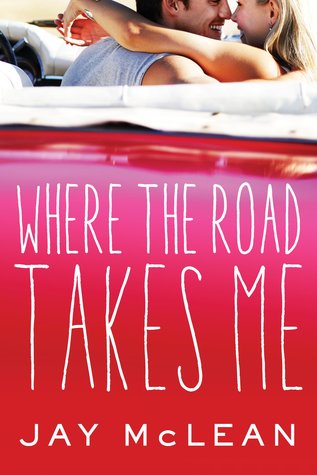 Synopsis:




Chloe has one plan for the future, and one plan only: the road. She's made a promise to herself: don't let anyone in, and don't let anyone love her. She's learned the hard way what happens if she breaks her rules. So she's focused on being invisible and waiting until she can set out on the road—her dream of freedom, at least for a little while.

Blake Hunter is a basketball star who has it all—everything about him looks perfect to those on the other side of his protective walls. He can't let anyone see the shattered pieces behind the flawless facade or else all his hopes and dreams will disappear.

One dark night throws Chloe and Blake together, changing everything for Blake. For Chloe, nothing changes: she has the road, and she's focused on it. But when the so-called perfect boy starts to notice the invisible girl, they discover that sometimes with love, no one knows where the road may lead.
I was provided an ARC via NetGalley in exhange of an honest review.
*Tiny spoilers ahead*
First of all, I was under the impression this was New Adult.
I don't even know how I made that mistake. I distinctly remember reading this under the NA section in NetGalley. So you tricked me NG! So why am I whining about this, you ask? Cause I
hate
abstract sex scenes. It's not like I'm into reading erotica or anything but you gotta give me some kind of detail. It's all in the details!
Second...This story is about a girl who's decided to be invisible all her life. She didn't want to hurt those around her when she would undoubtedly leave. But fate has other plans and one night she meets Blake. A boy, a star, who at first glance has the perfect life, the perfect friends. He has it all. Or so we think. What happens when two worlds clash, a girl pulled down sickness and a boy dragged down by life...Am I the only reminded of...
That was the only thing popping into my head every time I read this.
Have your ever read a book that you disliked and based on that previous judgement every little thing that might be annoying but doesn't necessarily bother you in other books just seems to grate on your last nerve here? (that's a long question lol)
I basically disliked everything.
The writing was choppy as hell. The entire story felt like glued together paragraphs. It made it so hard to get into the story and was never able to run smoothly.
The characters...
OMG you cannot create characters like her and expect any kind of sympathy from your readers. She's selfish, idiotic and has the mindset of a moron. She's hypocritical and her inconsistencies where giving me whiplash.
Also her behavior was intolerable. One second she's a whiny brat and the next she's spouting wisdom like Solomen. She had a two second rebound and then she was back to driving me insane.
I think what bothered me most was her lack of knowledge toward cancer. She supposedly investigated this meticulously and the fact that she was still as clueless as an idiot bothered me to no end. Maybe it's my personal taste but I dislike reading about any kind of sickness in books unless the homework has been done and done correctly. I had recently read this book called Tangled and one of the characters had bipolar disorder. It was done flawlessly. We had his point of view and after just reading like a page I deduced it. The fact that that author was able to drive it home made me love that love all the more. This is my area, so inaccuracies tend to drive me insane.
Then there was Blake. I never had the opportunity to read about a male doormat but here I got my chance. I think he basically went from one manipulative relationship to another. He was treated like garbage time and time again and he just kept coming back for more. Not an ounce of self respect.
Also
the insta love
A picture is worth a thousand words.
Oh and finally...That road trip...FAIL!
BEFORE READING STATUS:
I'm like freaking desperate to read this. I honestly stalk it, like, weekly. No shame in admitting the truth :)
View all my reviews
♥Until next time♥