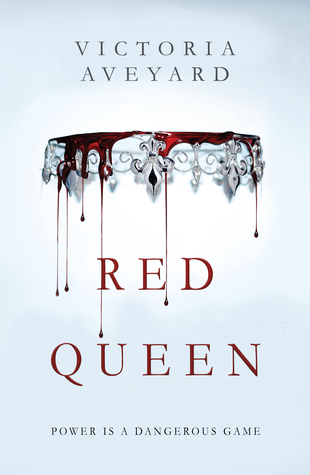 Synopsis:



The poverty stricken Reds are commoners, living under the rule of the Silvers, elite warriors with god-like powers.

To Mare Barrow, a 17-year-old Red girl from The Stilts, it looks like nothing will ever change.

Mare finds herself working in the Silver Palace, at the center of those she hates the most. She quickly discovers that, despite her red blood, she possesses a deadly power of her own. One that threatens to destroy Silver control.

But power is a dangerous game. And in this world divided by blood, who will win?
COME ONE, COME ALL! :P
IT IS OFFICIALLY RELEASED ON FEBRUARY 10. In case you don't have a calender near you, that means TOMORROW PEOPLE!
__________________________________________________________________
Obviously, Jess just had to mention New Darkling. Hook, line and sinker.
__________________________________________________________________
"In school, we learned about the world before ours, about the angels and gods that lived in the sky, ruling the earth with kind and loving hands. Some say those are just stories, but I don't believe that.The gods rule us still. They have come down from the stars.
And they are no longer kind."
It's a dark and despairing place where the Reds are destroyed by the greatness of others, losing the battle for their right to exist because they are not
special
.
It's a world where Silvers dominate by cruelty and power, where the line is drawn between the weak and the mighty. All hope is lost. All will to fight is gone.
What happens when a girl sends forth a tiny ripple of hope?
"For hundreds of years the Silvers have walked the earth as living gods and the Reds have been insects at their feet, until you. If that isn't change, I don't know what is."
Mare is the spark of change. The gentle whispers of hope. The last drop of water that overfills the dam.
Something is coming...
"We will rise, red as the dawn."
Do you know what happens when one is cornered, backed up against the wall of despair and desolation with everything stripped from them?
It makes one dangerous with nothing to lose and everything to gain.
"Part of me wishes I could submit to chains, to captivity and silence. But I have lived that life already, in the mud, in the shadows, in a cell, in a silk dress.
I will never submit again. I will never stop fighting."
So you throw in some kings and queens, a dash of conspiracy, a splash of treachery and a dab of powers and you'll have your everyday, run of the mill fantasy...What makes this one fascinating is in the details.
Red Queen will have you at the edge of your seat, whisking you away into a world of deceit and betrayal, questioning every character and action, every deed and every whisper for they live in a world where
anyone can betray anyone
with the one unchangeable certainty is that nothing is certain or unchangeable.
This isn't some fairy tale with a happily ever after. There will be no hero in the end coming to save us.
"A forgotten son, a vengeful mother, a brother with a long shadow, a strange mutation. Together, they've written a tragedy."
Personally, I live for these stories. Where the oppressed say
"no more, enough is enough"
. Where they stand and fight rather than live lives as prisoners. I find nothing more inspiring then reading characters that will struggle until their last dying breath to hold on to what was taken away or to grasp what they can of freedom.
And
Victoria Aveyard
wrote one hell of a story.
♥Until next time♥