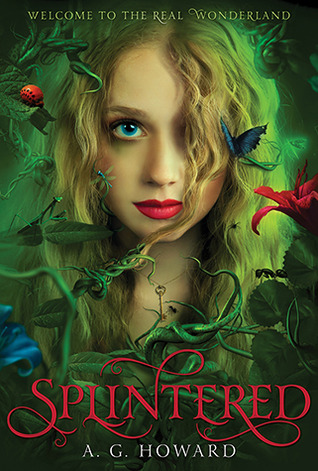 Synopsis:

This stunning debut captures the grotesque madness of a mystical under-land, as well as a girl's pangs of first love and independence.

Alyssa Gardner hears the whispers of bugs and flowers—precisely the affliction that landed her mother in a mental hospital years before. This family curse stretches back to her ancestor Alice Liddell, the real-life inspiration for Lewis Carroll's Alice's Adventures in Wonderland. Alyssa might be crazy, but she manages to keep it together. For now.

When her mother's mental health takes a turn for the worse, Alyssa learns that what she thought was fiction is based in terrifying reality. The real Wonderland is a place far darker and more twisted than Lewis Carroll ever let on. There, Alyssa must pass a series of tests, including draining an ocean of Alice's tears, waking the slumbering tea party, and subduing a vicious bandersnatch, to fix Alice's mistakes and save her family. She must also decide whom to trust: Jeb, her gorgeous best friend and secret crush, or the sexy but suspicious Morpheus, her guide through Wonderland, who may have dark motives of his own.
Buddy Read with
Brittain
and
Raquel
4.5
Lets go down the rabbit hole and make a different kind of story. Where things are dark and gritty and nothing is at it seems.
...
...
...
Dare to step inside?
And in we go... into a new kind of tale.
A gruesome story of twisted colors and lies, betrayals and secrets, enchantments and horror.
"The morbid and revolting are such fascinating subjects."
Wickedly sinister and beautiful. Hauntingly grotesque and magical.
It's otherworldly where old characters come alive...
"I'm not crazy. My reality is just different than yours."
... And new ones arise
Alyssa
"She never asked to be tied to a fairy tale."
Driven by love and fear she will make a stand and take back her life...


Morpheus
"There is nothing black or white about him for he is a chaos of grey..."
He is glory and deprecation -sunlight and shadows-the scuttle of a scorpion and the melody of a nightingale. The breath of the sea and the cannonade of a storm. He is terrifying, strange and beautiful. Something not everyone knows how to love. He is everything one needs in a character. He is intriguing and complex. Selfish and manipulative. Agile and keen.
And he is MINE.
Jeb
"Jeb is stable, strong, and genuine."
Her exact words. My thoughts? Get a dog. Same qualities but much less annoying.
A whimsical tale that takes you on an eerie journey with deranged characters in a harsh world, where words come alive with vivid details and everything you've known will be as nothing you've ever imagined.

Welcome to a warped fairy tale...
♥Until next time♥