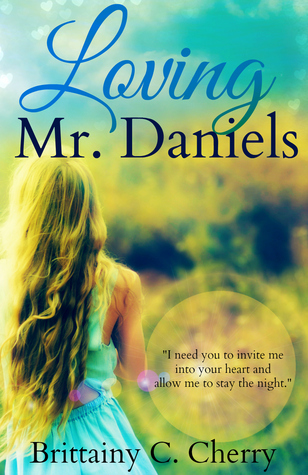 Synopsis:
To Whom it May Concern,
It was easy to call us forbidden and harder to call us soulmates. Yet I believed we were both. Forbidden soulmates.
When I arrived to Edgewood, Wisconsin I didn't plan to find him. I didn't plan to stumble into Joe's bar and have Daniel's music stir up my emotions. I had no clue that his voice would make my hurts forget their own sorrow. I had no idea that my happiness would remember its own bliss.
When I started senior year at my new school, I wasn't prepared to call him Mr. Daniels, but sometimes life happens at the wrong time for all the right reasons.
Our love story wasn't only about the physical connection.
It was about family. It was about loss. It was about being alive. It was silly. It was painful. It was mourning. It was laughter.
It was ours.
And for those reasons alone, I would never apologize for loving Mr. Daniels.
"It was easy to call us forbidden and harder to call us soulmates. Yet I believed we were both.
Forbidden soulmates."
I basically read the whole book with a lump in my throat and knots in my stomach. My eyes tearing up and nose stuffing up. I found myself smiling through the tears. For some reason this was a very emotional read for me. And in all honesty I loved every second of it.
Every word touched my heart. Every whisper echoed in my soul. Every gaze, every smile, every laugh, every tear, every heartache. And I don't know why...
At first what drew me was the forbidden. There's always something so enticing about what you're not allowed to have. Something so compelling about that which is out of your reach. Something you can only openly admire in shadows, something you can only love in darkness.
"Leave the past behind you so the future can find you."
But then it became more. There came a time where it became about healing, about learning to forgive. It became about broken pieces and shattered hearts. It became about fractured homes and hidden lies. It became about moving on and letting go. Being sad but refusing to give up. Working to just take one more breath, no matter what.
One more breath.
"Alive. I want to be alive, and I have no idea why, seeing how hideous life is at times. Maybe it's belief, hope, and passion all wrapped into one shape that rests inside my chest. Perhaps my heart is just praying for better tomorrows to replace all those shitty yesterdays."
And living. It became about living. Living in the moment. Living for today. And living for the future and the hope it promises.
So far this year I've read more than 30 books and I'd been searching for that 5 stars. I've read ones that have made me laugh and ones that have made me cry. Read tons that have frustrated me beyond belief and a few that have fueled an anger I haven't seen in a while. A couple that I'd loved and others that I'll cherish but this is the first that had moved me. The first that has made me kiss the cover and hug the book. The first that has made me feel and it probably touched me more than most because it could hit so close to home.
The only thing I'll say is that it's not perfect. Insta-love makes an appearance. And at times some cliches do too. Sometimes it feels sad just because it can and it makes you cry for the hell of it. It's over dramatic and maybe unrealistic. And maybe not the most original but
every
heartfelt moment managed to touch me. And in the end I guess that's all that counts...
"I began to beg the heavens that this wasn't some depression-drenched fantasy- yet if it were, I hoped to never find reality again."
View all my reviews
♥Until next time♥